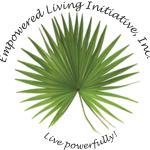 Live Powerfully! That's the motto of Empowered Living Initiative (ELI). ELI is a 501(c) (3) non-profit organization based in Brooklyn, New York. ELI's mission is to participate in facilitating family wellness and supportive care through education. Our vision is that families will be able to make empowered health care decisions in maintaining their wellness. And, nursing care is an important component in achieving this vision for families.
Because we believe that the beginning of the family unit presents a unique opportunity for new learning, we emphasize providing education in maternal and child care. However, reproductive health is part of overall health. And so, we also encourage integration of all aspects of health and provide education on a variety of health topics.
ELI also realizes that wellness is the end product of self analysis, self responsibility, and understanding the dynamic relationships between self, the physical environment, perceived environment, and interaction with others.
OUR SCOPE OF CARE
ELI provides supportive care through educational activities for both professional care providers and families. We challenge both professional care providers and family participants in our learning activities to learn about staying healthy and to share their knowledge. Our family learning activities are not to replace the advice of families' care providers.
ELI has provided community workshops on:
decreasing high incidences of premature births
nutrition
decreasing health disorders by preventive care
effective preconception counseling
achieving healthy pregnancies, healthy postpartum care
empowered living for families throughout their lifespans
OUR INTERNATIONAL EFFORTS

By providing donations of medical equipment and sponsorship of sports activities, ELI has partnered with education, health and social welfare agencies in Sierra Leone, West Africa.
OUR GOALS/OBJECTIVES
Our short-term program goal/objective is to foster family self-responsibility in health care. Our long-term goal is to provide tools to families and professional care providers for bridging health care disparities. We also have the long-term goal of improving maternal and child health disparities by building a state of the art birthing center in During Town, Sierra Leone, West Africa. The proceeds from purchases on AAW go meet our long-term goals.